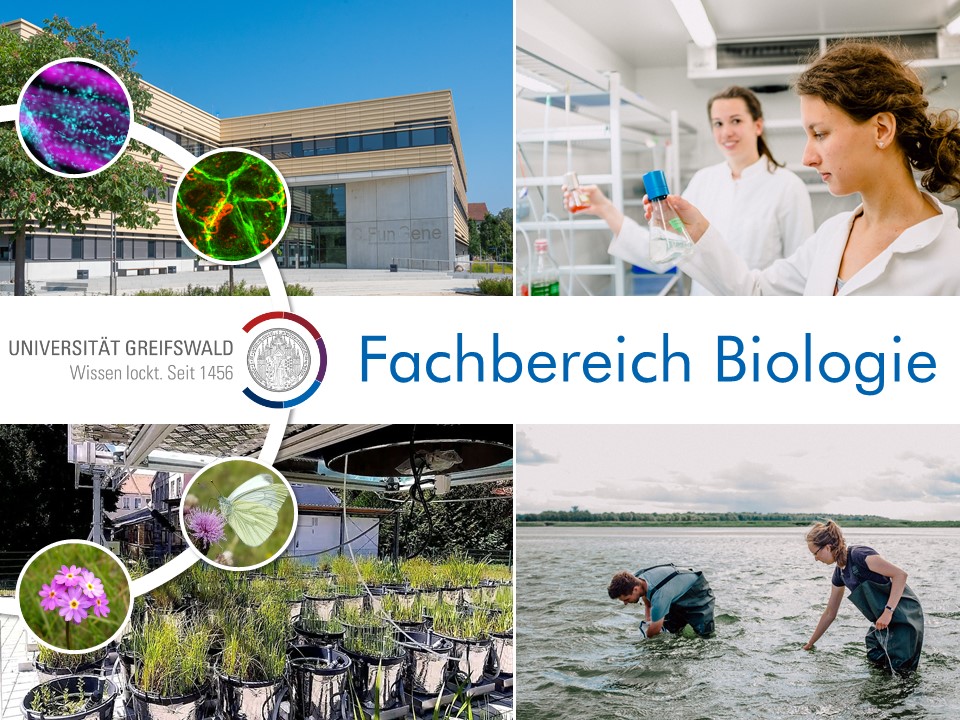 Contact
Department of Biology
Head of Department:
Prof. Dr. Peter Michalik
Secretary:
Mary Doktorowski
Friedrich-Ludwig-Jahn-Str. 15
D - 17489 Greifswald
Telefon +49 (0)3834 420 4150
Telefax +49 (0)3834 420 4173
mary.doktorowskiuni-greifswaldde
We have two major foci in research and teaching, namely 'Organismic Biology' (Botany, Zoology, Ecology, and Landscape Ecology and Nature Conservation) and 'Cellular and Molecular Biology' (Microbiology, Molecular Biology, Physiology, Biochemistry, and Genetics). Both are integral components of the University's research topics 'Environmental Change: Responses and Adaptation (ECRA)' and 'Proteomics and Protein Technologies in Infection Biology, Environmental Microbiology and Biotechnology'.

There are research and teaching cooperations with members of the following institutions within this university: Earth Sciences, Social Sciences, Medicine, Biochemisty, and Pharmacy.
The number of students with majors in biological sciences currently accounts to 750. We have currently 16 full professors in the Department of Biology whose expertise cover all relevant areas.
Faculty
Faculty
Prof. Dr. Doerte Becher, Full Professor of Microbial Proteomics (Microbiology)
Phone +49 (0)3834 420 5903, dbecher(at)uni-greifswald(dot)de
Prof. Dr. Irmgard Blindow, Head of the Biological Station Hiddensee, Experimental Plant Ecology (Botany)
Phone +49 (0)38300 50251, blindi(at)uni-greifswald(dot)de
Prof. Dr. Anca Dorhoi, Full Professor of Immunology (Biology, Friedrich Loeffler-Institute)
Phone +49 (0)38351 71624, anca.dorhoi(at)fli(dot)de
Prof. Dr. Christian Gliesche, Full Professor of Microbial Ecology (Microbiology)
Phone +49 (0)3834 420 4943, christian.gliesche(at)uni-greifswald(dot)de
Prof. Dr. Dr. Martin Gorke, Full Professor of Environmenal Ethics (Botany)
Phone +49 (0)3834 420 4121, gorke(at)uni-greifswald(dot)de
Prof. Dr. Martin Haase, Head of the Vogelwarte, General and Systematic Zoology (Zoology)
Phone +49 (0)3834 420 4347, martin.haase(at)uni-greifswald(dot)de
Prof. Dr. Sven Hammerschmidt, Full Professor of Molecular Genetics (Genetics)
Phone +49 (0)3834 420 5700, sven.hammerschmidt(at)uni-greifswald(dot)de
Prof. Dr. Steffen Harzsch, Full Professor of Cytology and Evolutionary Biology (Zoology)
Phone +49 (0)3834 420 4124, steffen.harzsch(at)uni-greifswald(dot)de
Prof. Dr. Hans Joosten, Research Assistant Professor (apl.), Paleoecology (Botany)
Phone +49 (0)3834 420 4179, joosten(at)uni-greifswald(dot)de
Prof. Dr. Gerald Kerth, Full Professor of Applied Zoolgy and Nature Conservation (Zoology)
Phone +49 (0)3834 420 4100, gerald.kerth(at)uni-greifswald(dot)de
Prof. Dr. Jürgen Kreyling, Full Professor of Experimental Plant Ecology (Botany)
Phone +49 (0)3834 420 4131, juergen.kreyling(at)uni-greifswald(dot)de
Prof. Dr. Philipp Lehmann, Professor für Physiologie der Tiere (Zoology)
Telefon +49 (0)3834 420 4290, philipp.lehmann(at)uni-greifswald(dot)de
Prof. Dr. Peter Michalik, Curator of the Zoological Museum (Zoology)
Phone +49 (0)3834 420 4099, michalik(at)uni-greifswald(dot)de
PD Dr. Carsten Müller, Research Assistant, General and Systematic Zoology (Zoology)
Phone +49 (0)3834 420 4240, carstmue(at)uni-greifswald(dot)de
Prof. Dr. Katharina Riedel, Full Professor of Microbiology (Microbiology)
Phone +49 (0)3834 420 5900, riedela(at)uni-greifswald(dot)de
Prof. Dr. Martin Schnittler, Full Professor of General and Special Botany (Botany)
Phone +49 (0)3834 420 4123, martin.schnittler(at)uni-greifswald(dot)de
Prof. Dr. Cornelia Silaghi, Full Professor of Infection Medicine (Biology, Friedrich Loeffler-Institute)
Phone +49 (0)38351 71172, cornelia.silaghi(at)fli(dot)de
Prof. Dr. Christine Stöhr, Full Professor of Plant Physiology (Botany)
Phone +49 (0)3834 420 4104, stoehr(at)uni-greifswald(dot)de
Prof. Dr. Hans-Joachim Schüller, Full Professor of Biotechnology and Applied Genetics (Genetics)
Phone +49 (0)3834 420 5703, schuell(at)uni-greifswald(dot)de
Prof. Dr. Gabriele Uhl, Full Professor of General and Systematic Zoology (Zoology)
Phone +49 (0)3834 420 4242, gabriele.uhl(at)uni-greifswald(dot)de
Prof. Dr. Tim Urich, Full Professor of Bacterial Physiology (Microbiology)
Phone +49 (0)3834 420 5904, tim.urich(at)uni-greifswald(dot)de
Prof. Dr. Alexander Wacker, Full Professor of Animal Ecology (Zoology)
Tel.: +49 (0)3834 420 4266, Mail: alexander.wacker(at)uni-greifswald(dot)de
Prof. Dr. Martin Wilmking, Full Professor of Landscape Ecology and Ecosystem Dynamics (Botany)
Phone +49 (0)3834 420 4095, wilmking(at)uni-greifswald(dot)de