Courses, seminars and workshops
The Biological Station as a location for excursions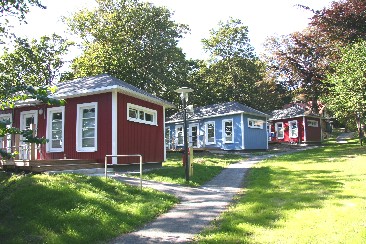 About 40 courses and workshops per year take place at the Biological Station of Hiddensee.

The six student bungalows were rebuilt during 2012 and offer accomodation for 24 persons in double rooms. Every bungalow is equipped with a bathroom, some also with pantry. One of the bungalows is suitable for disabled persons.
Cooking facilities are available in the large kitchen building.
Two double rooms, three single rooms, two bathrooms and a kitchen are available in the "doctorand building".

The course building is equipped with a seminar room and a field laboratory. Black- and whiteboard, computer and beamer, field and lab equipment as well as microscopes and stereomicroscopes are available. Literature is available on request.

There is WiFi connection on the whole property including student bungalows and doctorand building. Some additional computers with internet connections are available in the seminar room.
Please note: Following the General House Rules for Buildings, Rooms and Grounds of the Greifswald University from 22-01-2016, Article 5 (6), it is not allowed to bring animals. Exceptions are assistance dogs of disabled persons, service dogs of the forestry administration and animals, which are necessary for research or teaching purposes.
More Information
information about prices (in German): Preisliste
Please contact us for detailed information about prices and conditions!
Information about the available field and lab equipment (in German).
Information about the available field and lab equipment.